Wrenching Humber doc decries deportation
Travis Pereira
News Reporter
The damaging and traumatizing experience of deportation is something that hits close to home for second year Film and Television Production student Kejd Kuqo.
"When we first starting pitching ideas, I knew I wanted to do something with deportation because that's very personal to me," said Kuqo.
"It's something that a lot of my family members have experienced, so I feel like it's a story I know very well and I wanted to share that with people," he said.
Humber Film and Television Production professor Donna O'Brien-Sokic said she encourages students to "write what they know."
As the production's management faculty O'Brien-Sokic said it's her job to be involved and oversee all facets that go into creating the project from beginning to end.
She said although passion is a great asset, students have to illustrate they have access to the people involved to make a story materialize, and added the story Kuqo wanted to tell in a documentary format was really intriguing to all faculty members involved.
"When he pitched he had such passion and commitment about making this film, and he had great access to making it happen," O'Brien-Sokic said.
The documentary film Building on Sand is the way Kuqo has involved himself with the cause of trying to halt the imminent deportation of a friend of a family member.
"When I came across Naim, through a mutual friend, and he told me his story I just knew I had to tell it," said Kuqo.
Naim Cekaj is an Albanian who was forced to flee his homeland from fear of being killed.
He said he was unwillingly brought into a "blood feud" after a family member killed someone.
Cekaj explained the Kanun of Lek Dukagjini is an ancient code of retribution that's still practiced in Albania. The essence of this code follows the paradigm of "an eye for an eye".
"If a man kills another man, the code demands that retribution take form in the death of one of the killer's male family members," he said.
Cekaj said the imminent danger forced him to come to Canada illegally and apply for refugee status.
"I've been denied status twice and my appeals have been denied four times, so six times in total," he said.
"The definition of a refugee, which is also incorporated within the Canadian legislation, is a person outside their country of nationality who requires protection," said communications advisor for the Immigration and Refugee Board of Canada Charles Hawkins.
He said the evidence in most refugee status claims is the oral evidence from the claimant. "The standard of evidence is lower then it would be in any regular court but it is any relevant information that the decision maker needs to evaluate the evidence," Hawkins said adding that the evidence is evaluated in the context of the particular claim.
He said determining what weight to accord to the evidence by considering documented issues about the person's country of origin is certainly taken into account.
"In almost all of our refugee claims there is a lot of documentary material about the situations in the country or origin for persons making a particular type of claim," said Hawkins.
Cejak said the nature of his story is hard to prove with concrete evidence.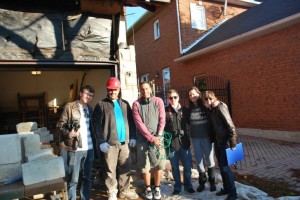 "My status has been denied because there's a lack of tangible documents to prove this is real," he said.
Kuqo said him and his family were fortunate to find a home in Canada after being deported from the United States. He said Cekaj's situation touched a chord with him because he's doing it without the company of his loving family.
Kuqo said when discussing how the project should be approached there was a consensus that there needed to be a universal theme that anyone could relate to.
"Everyone knows some form of family, and may know what it's like to not be with them. So, that was the universal connection that a viewer could have with him and from that, feel the rest of his story in the way that someone who didn't experience it still could," he said.
Second year student and the producer for the project Brittany Sheahan, said despite never encountering the subject matter, the message within the documentary resonated with her deeply.
"I've never had any personal experience with deportation," she said. "What really got me into it was the whole family thing, with him not being able to be with his family because of something that isn't his fault."
Sheahan said just a few moments interacting with Cekaj is all it takes to determine that protecting and being reunited with his family means more to him than words can express.
"I could never imagine not being with my family and not being able to see them anytime I want," she said. "You can't help but feel that connection and feel for the guy because he's so welcoming."
Cekaj said he has once again appealed his deportation order and is currently awaiting the results.
Hawkins said for an appeal to be granted new evidence would have to show that the original decision was incomplete, incorrect or somehow not made in accordance with the principles of natural justice.
He explained the only thing that can be considered in the determination of a refugee claim is evidence submitted at the hearing.
"The only thing that can be considered is the information and argumentation presented at the hearing, so there can't be any outside influence at all.
"It would be inappropriate if a decision maker took anything into account other then the claimants story, allegations and evidence put forth to support the claim," he said
Kuqo said in preparation for the project he researched the effects community support and campaigns could have in official matters.
He said he came across a situation about a family that had a lot of support to overturn a deportation order.
"I don't know if that was the reason why, but the deportation order was reversed," said Kuqo. "I feel like in this day and age if enough people want change, there will be change. And, I'm hoping there is enough people who want change."
Kuqo said this is definitely the most meaningful project he's worked on so far and he's proud of what has been produced.
"Normally when you do a school project and it's done you put it somewhere and never look at it again. This is something that keeps going after the project is done," he said.
"This story needs to be told. Someone needs to find out about his situation and hopefully we can get something going for him because it's an injustice.
"We want him to be able to stay here and bring his family over. We're definitely still completely invested in this," said Sheahan.
Kuqo hopes the film will help to bring awareness of this issue to a broader audience.
"I was really surprised by peoples' reaction when they saw the documentary, and that really encouraged me to get it out to more people," he said.
Building on Sand premiered in early December 2013 at the Bloor Hot Docs Cinema alongside the other student projects produced in the program in fall semester.
"We're really hoping it has a life beyond that," he said. "We're focusing on sending it to Canadian festivals because I do want his story to get out, especially, to a Canadian audience."
There's a petition on change.org (www.change.org/en-CA/petitions/let-naim-stay) to spread awareness about Cekaj's situation.