TTC unveils new streetcar design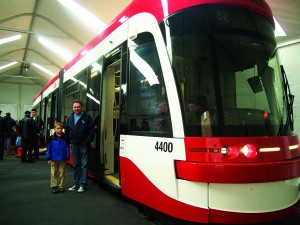 Alexandra Gundy
NEWS REPORTER
Ken Cummings was part of the four-person panel of experts that assisted with the creation of the Toronto Transit Commission's new streetcars.
Cummings, an industrial design instructor at Humber, said the new streetcars are intended to replace the current fleet of 248 streetcars over the next six years,  and that the new light rail vehicles (LRV) are unlike any streetcar design Toronto has seen before.
"The streetcars have been updated before, but this is the first time the TTC has completely redesigned them," said Cummings.
The public was invited to attend a four-day event last week, where the new cars were unveiled in a life size mock-up.
The TTC consulted the panel several times over the past two years as the design progressed.
"My focus was how easily can people use this streetcar and how can we make sure it functions more efficiently," said Cummings.  "A streetcar is no good while it's standing still, so we lowered it to ground level. Without stairs, each passenger boards a little bit quicker."
Lowering the streetcars so they rest only a few inches off the ground, will allow people who use mobility devices and those who are pushing strollers to board easily.
"Our current streetcars are just not accessible," Danny Nicholson, director of TTC corporate communications. "These new LRVs will be low-floor streetcars, will come with a ramp that can be deployed for people in wheelchairs, and will have wheelchair seating."
The mock-up shows a completely enclosed driver area, as passengers will no longer pay fares directly to the streetcar driver.
"People will be able to board from both the front and the back doors," said Nicholson. "Uniformed TTC officers will then approach people at random and ask to see their tickets. It is based off of London's rail system."
Celina Wong, who attended the opening with her son, said, "There isn't much standing room, and these aisles seem too narrow.
"People struggle with strollers as it is, and I don't see how that is going to be accommodated."
One younger rider who attended the unveiling approved of the new low-floor design.
"The old streetcars were really high, it was hard for me to get on. This will be easier for everyone," said 8-year old Bryan Arnold.