Toronto pedestrian safety issues still a major civic concern
Eric Wickham
News Reporter
To understand a person, one must walk a mile in their shoes. In Toronto, however, that may be too much to ask.
Vehicles in Toronto killed 51 pedestrians last year and many others were seriously injured.
An elderly man and a woman were killed in two separate collisions in Scarborough in the past month.
Dylan Reid, co-founder of Walk Toronto, an activist group focused on pedestrian safety, says the winter offers new safety concerns to pedestrians.
Snowy sidewalks and increased darkness make November and December the worst months for pedestrian injuries in Toronto, he said.
"Walking is a way of getting around that is open to anyone, it's immediately accessible," he said.
Reid first became involved in pedestrian activism in 2003 when he joined the Toronto Pedestrian Committee.
He said walking in the city is more than just a means of travel.
"Walking makes cities come to life, it's how we see the city," said Reid.
He said creating more pedestrians is environmentally friendly, takes cars off the road and reduces congestion.
Reid said that although pedestrian deaths in Toronto have been trending downwards, the number was still not where it should be.
"Fifty-one deaths, that's more than how many people were shot in Toronto," he said.
Reid said that reducing the default speed limit to 40 km/h would help prevent pedestrian fatalities. He cited New York City's success with a similar reduction of default speed.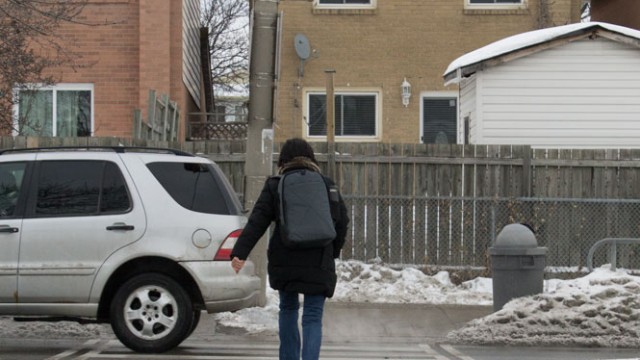 "If you look at the stats, far less pedestrians will be killed if they're hit at 40 km/h than 50," he said.
Toronto Ward 25 Councilor Jaye Robinson, chair of the Public Works and Infrastructure Committee, proposed on Feb. 23 to implement a road safety plan for the City of Toronto.
This plan will draw inspiration from Vision Zero, an international road safety initiative used in major cities across the world.
Reid said that although the plan is just beginning, it's a good first step.
"We're not trying to reinvent the wheel, we're just trying to find a plan that works for Toronto," said Mike Varey, executive assistant to Robinson.
"One pedestrian death is too many," he said.
These safety concerns for pedestrians are also present on Humber North campus.
Rob Kilfoyle, Humber's director of Public Safety and Emergency Management, said because of the construction at Humber North, there are a number of risky areas for pedestrians.
"Out front where the new bus loop is being constructed, that's a quite challenging area to navigate," he said.
Students need to be aware of their surroundings while on campus Kilfoyle said.
"We have clearly defined and delineated walk areas on campus, we have crosswalks at major intersection areas. We encourage people to follow the walkways and the sidewalks," he said.
Although Kilfoyle couldn't recall a pedestrian accident happening on campus, he mentioned two that happened in close proximity to the school.
"We've had a few serious incidents on Humber College Boulevard," he said.
"Last year there was a fatality. It involved somebody getting off a bus then going through the crosswalk and being hit by a vehicle," said Kilfoyle.
He said a car on Humber College Boulevard struck another student after stepping onto the road in front of the bus from which he had disembarked.
Kilfoyle said the new bus loop is under construction to take bus and pedestrian traffic off Humber College Boulevard. The loop is expected to be complete for the fall 2015 semester.