Talent and hard work is sparking at centre of trade and technology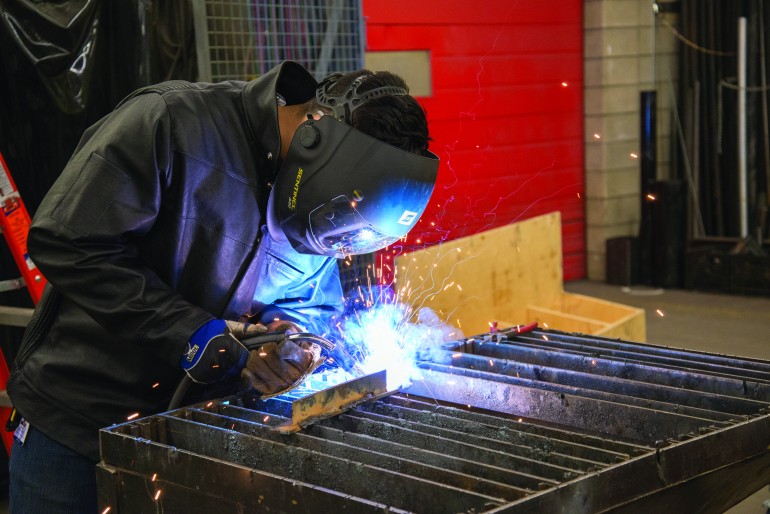 Harman Singh Gurm
Biz/Tech Reporter
Humber's Centre of Trades and Technology provides an opportunity to advance their career in technology.
"Centre for trades and technology is a place, which provides a real life working environment to help the students to succeed in their careers," said Michael Auchincloss, the associate dean of the School of Applied Technology.
"We provide students a place with the real-life exposure of the worksites with help of various labs, machines, up to date technology and equipment, where they can learn, practice and master their skills," he said.
Auchincloss said Carrier Drive has eight skill trades program, which includes electrical, welding, boiler making, millwright, plumbing, home renovation, woodworking and cabinet making.
Sandy Gerolimon, the program coordinator of electrical techniques at the Humber Centre for Trades and Technology, said all the trades are divided into two categories of programs, Post-Secondary or Techniques, and Apprenticeship.
"Apprentice programs consist of three levels, which are eight to 10 weeks long," he said. "To study in an apprentice program, students must be hired by a skilled employer, who must sponsor them.
"Students must have nearly a year of working experience prior to join the trades at Carrier Drive," Gerolimon said.
He said, for example, an electrician requires 9,000 hours of working experience to become licensed. Apprentice students work for nearly a year before they join the trade.
"After the year of working with the employer, they join the level one, which is eight weeks long and after completing it they go back and work again for a year," Gerolimon said.
He said students return for level two and after completing it, they work for another year and come back to do level three. The complete process requires four to five years.
"Once the students are done with it and clear the course with 70 per cent and all the certifications, they proceed to become a licensed electrician," Gerolimon said.
He said the apprenticeship process is similar for all the trades.
Gerolimon said the post-secondary and technique programs are two semesters long and provide the basic knowledge about a particular trade along with the necessary practical hand work.
"Techniques is for the students who want to get in trades but they don't have any experience," he said.
James Carey, who is a professor in plumbing, said the post-secondary programs are essentially the same as the apprenticeship course but are taught at a slower pace to students with no experience.
Carey said post-secondary programs leads to the apprentice program as the students get their certificate and are hired by companies.
"After a year of work, their employer sends them back to school as an apprentice, where they go through their training, they practice and learn about new innovations and methods along with latest technology," Carey said.
Auchincloss said he thinks that the interaction between the students is very important.
"Students from various trades interact with each other like they would, get to meet each other on real job sites, which lets them know each other and most importantly it teaches them to work in a collaboration," he said.
Auchincloss said all the labs, whether it be plumbing, home renovation or electrical construction, are open for all the students.
"Our courses are designed in such a way that students migrate from one lab to another irrespective of their trades, which allow them to see all the areas of all different trades that are present at the centre," he said.
"I am from electrical trade and when I went on the job site, it was not just me that was doing the work," Auchincloss said. "There were plumbers, renovators, people from framing and having to work along with them and tie all the things back together is the most important task and this is what Centre of Trades and Technology focus on."
He said the demand to be accepted at Carrier Drive is high as there is a wait list for about 90 per cent of the courses.
"Our courses are full at all times," Auchincloss said, adding some courses are expected to be streamed online by the fall.