Each 'Red Flag' one of the following themes: coercion, emotional abuse, sexual assault, victim-blaming, excessive jealousy, isolation, and stalking.
A reform made by the Ontario government in January is intended to make colleges and universities more affordable for mature students. The changes made will take effect for students applying to programs beginning in September 2017.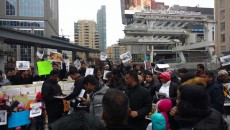 Jallikatu is a traditional sport where the bull is released into a crowd of youngsters who try to catch the hump of the bull while being able to remove the flags from its horns.