Humber College screened Avi Lewis' documentary This Changes Everything at Lakeshore campus as part of the school's Earth Week initiative.
Daniel Caudle Humber students and staff made their environment a little cleaner as Earth Week kicked off on Tuesday with a campus-wide cleanup. The college's Office of Sustainability launched this initiative, among others, with the hopes of creating a culture of environmental awareness around Humber's campuses and surrounding communities. Humber's Earth Week has become an…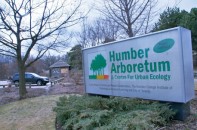 Earth has a limited amount of natural resources but people continue using non-renewable energy like there is no tomorrow, and at this rate experts believe there very well might not be.