Student stitches together plan to become next leader in footwear
Mickal Aranha
News Reporter

Evan Stichhaller, a third-year industrial design student at Humber College, is single-mindedly going after his goal of becoming a footwear designer. So far, he's among the leaders of the pack.
He is among the Top 32 in the voting round of the Pensole World Sneaker Championship. The global sneaker tournament — structured similarly to the NCAA March Madness brackets — was established in 2014 to support emerging designers.
The candidates will be whittled down to 16 today.
If Stichaller wins the final round, he will have a limited supply of his shoe manufactured and sold at select Footlocker locations along with a cash prize of $20,018.
The sneaker he designed for the competition is imaginative, focused, and emotional in the use of its elements. His aesthetic is sophisticated, influenced by designers like Yohi Yamamoto and Salehe Bembur.
"In order to create something timeless, I wanted to create a silhouette that could have been seen on somebody's feet 30 years ago but could also be seen on somebody's feet 30 years from now," Stichaller said.
The design calls to mind Canadian landscapes. The shoe is a low-top hiker mixed with the construction of a desert boot. The outsole gets its inspiration from a pinecone and its overlapping structures.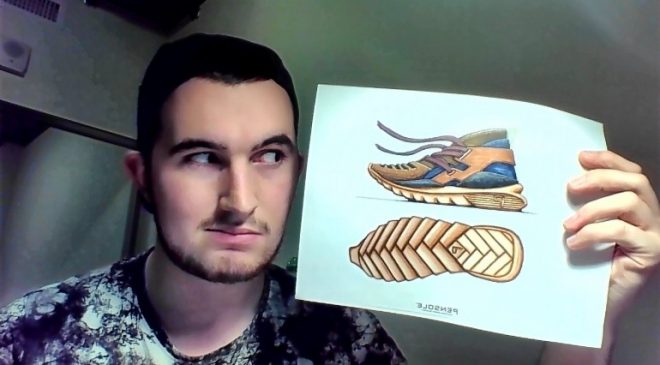 Stichhaller spoke to Humber Et Cetera from Portland, Ore., where he is attending the 12-week Pensole design intensive program at Pacific Northwest College of Art.
The program exposes students to apparel and footwear design for a specific brand contact and then guides them in creating product concepts that have the potential to go to market.
"Besides the competition I have been entirely focused on the work for my brand during the intensive," he said.
Stichhaller plans to return to Humber to complete the final year of his degree during the next winter semester while continuing to specialize as a footwear designer.
"Short-term, I hope to work at an industry internship this summer. Long-term I'd like to work for an independent footwear brand and then maybe start my own," he said.
Stichhaller offers a simple, and practical, piece of advice for students interested in following in his footsteps.
"Sleep as much as you can," he said. "Because as soon as you're in the thick of things that sleep time starts to disappear."