Safety alert near North Campus after burglaries and muggings

View 23 Division in a larger map
Andrew Ardizzi
Senior News Reporter
Police have increased patrols in the last month since a recent burglary in the neighbourhood north of North Campus.
"We've had feedback of people saying it's nice to see the additional patrols into the area," said Det. Greg Myers of 23 Division. "We're just trying to get on top of it so it doesn't become a serious problem."
Myers said there's been an overall increase in robberies in the area, but what police are seeing are people not really paying attention and they become victims of crime.
Listening to music through headphones has become a safety issue, said Michael Kopinak, Humber's associate director of public safety.
"Those damn headphones pose a problem."
Kopinak said when anyone goes out late at night and uses them, they can't hear, probably aren't paying attention to their surroundings and it indicates they have an iPod, cellphone, or some other electronic device, making them a target.
Students need have their cellphone ready to call 911 following the safety alert issued by 23 Division noting recent burglaries and muggings, said Gary Jeynes, Humber's acting director of public safety.
"If you're uncomfortable, you should remove yourself from the area," said Jeynes. "If it doesn't feel right, it's not right."
Crime analysts are looking at area trends to help pinpoint precise problems so they can be combated, Myers said.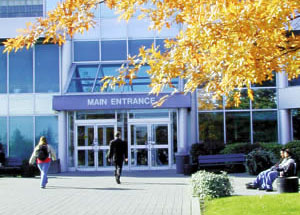 There has been a six per cent increase in break and enters despite an overall decrease in theft by 11 per cent this year to date, said Const. Wendy Drummond.
Third-year public relations student Jordana Davey recalled a recent ordeal where she and friends had left for McDonalds, leaving friends inside with the door unlocked.
She said they returned later and found their phones, iPods, credit card and laptops missing.
Since the break-in, their landlord has installed drapes, lights outside and fixed some locks.
Drummond said it's important to ensure doors and windows are secure, mail is not left to pile up outside and to keep the house lit.
She said to call 911 immediately and provide detailed information if anyone tries to force their way inside while you're home, and to stay inside.
"We never suggest confronting them," said Drummond.
With files from Khris Reardon