Pushing boundaries: Artists connect their work with activism, resistance and resurgence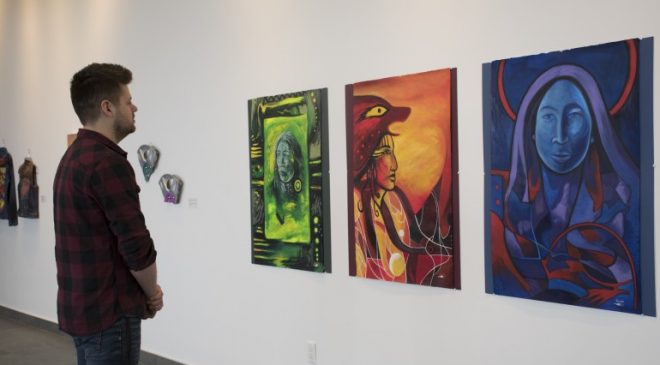 Vrushali Mahajan
Arts Reporter
Humber College recently hosted an art exhibition showcasing the Indigenous spirit.
It brought together an intergenerational group of artists who pushed past boundaries to illuminate the connection between art, activism, resistance, and resurgence. Whether through photography, painting, drawings, mixed media, or culturally embedded practice, the roots of Indigenous artistry ran deep in this exhibition.
The project marked an ongoing partnership and learning process between the Aboriginal Resource Centre and Humber Galleries.
"Gashkozin. Niibawin. Giigidoon." The powerful Ojibwe saying translates to "Wake up. Stand up. Speak up," describing the Aboriginal desire for recognition. All the speakers and artists who came to the podium to speak started with an Ojibwe introduction.
Sheila Sampath, principal and creative director of The Public Studio, acted as a mentor and sounding board for the exhibition. She spoke about decolonisation and creativity.
"What does it mean to live and act in a world marked by thousands of years of history? Indigenous art occupies a unique space in today's world," Sampath said.
"Art is that form of nature which brings out the noblest intention in every person," she said.
"The collaboration of urban settings and cultural background influenced me on how I see the world," said Emma Petahtegoose, of Atikameksheng Anishnawbek, also known as the Whitefish Lake First Nation, on asking what inspired her towards her artwork.
"'Walking into Two Worlds' is an artwork on Vans canvas shoes which reflect the duality of life and how a person can evolve and adapt to their environment while still remembering the roots of their origin," she said.
The artists also spoke about how they used to struggle in schools when they were young due to their originality.
"It is really important that we respect each and every individual on this planet, be it a human being or an animal," said Nibin John, a Humber project management student. "Having these kinds of exhibitions really help people know more about the native communities.
"As they belong to the most deep-rooted population, they have a rich culture. It is enlightening to understand their ethics," John said.
Joseph Sagaj, a native of Neskantaga First Nation in northern Ontario, said his paintings on display, Bear Spirit, Moonlight Woman and New Era, illustrate his devotion towards fine arts.
"About my paintings, these three paintings portray lives of the natives. My painting Bear spirit portrays the protective and shielding nature of our communities," Sagaj said.
"Paintings have always been a form of conveying powerful messages," he said. "Exhibitions have always got people together," he said.