New Brampton Transit bus route to help Humber Züm
Alex Lambert
Senior Reporter
Humber students busing from Brampton will be able to shave some time off their commute with the arrival of Brampton Transit's new route, 511 Steeles.
The 511 will run from Brampton's Shopper's World Mall to North Campus. It's slated to start running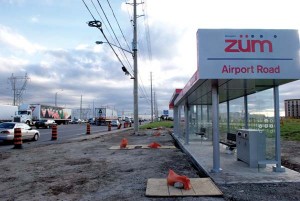 by late November, said Alex Milojevic, Brampton Transit's senior manager of business strategies.
"We're still on target for the Nov. 26 launch for the Steeles corridor," he said.
There had been talk between Brampton Transit and Humber that construction of a transit hub at the college would coincide with the launch of Brampton's express bus to Humber. But Humber's project won't be completed until 2015, according to Milojevic.
Milojevic said the 511 will offer numerous improvements over Brampton's conventional route 11 Steeles.
Instead of the roughly 50 minutes it takes the 11 to get from Shopper's World to Humber, the 511 is expected to take only 35 minutes because of limited stops and a more direct route, Milijevic said.
Other improvements are real-time scheduling information on buses, signal priority for buses sitting at an intersection, and more comfortable seating.
For now, Brampton Transit will have to operate from a stop on Humber College Boulevard. But by the end of 2015, the 511, along with all other buses arriving at Humber, will pull into a transit hub just steps from Humber's future Learning Resource Commons, said Rani Dhaliwal, vice president of finance and administrative services at Humber College.
Dhaliwal said the province has provided $74.1 million in funding for the Learning Resource Commons and transit hub.
It will improve campus accessibility and student safety because students will no longer have to cross a road or parking lot, she said.
"This is actually the largest project that Humber College has ever undertaken and it's the largest funding that any college (in Ontario) has ever received towards a capital project," Dhaliwal said.
Greg Lord, 21, a Brampton Transit user and Humber game programming student, said he would
benefit from the 511.
"I have to take the GO bus as well, so I have to get to Bramalea (GO station) at a certain time, and it's really helpful to be there at the right time."
"So if I can leave later than I have to, that's probably better because then I don't have to spend so much time on the bus," Lord said.