Liberals promise healthcare, childcare and more jobs in 2018 budget
Taz Dhaliwal
News Reporter
Premier Kathleen Wynne's Liberal government promises "care and opportunity" in its 2018 pre-election budget, which appears to be a platform designed to win over voters more than anything else.
The Liberals' plan on investing billions despite a projected deficit of $6.7 billion in the 2018-19 fiscal year.
The budget dropped on March 28 proposes to make investments of $20.3 billion in health care, child care, home care, mental health and more in order to bring relief to these areas.
The budget can only come into fruition if the Liberals are re-elected on June 7 during the Ontario election.
"Ontario's economy is getting stronger, businesses are creating record numbers of jobs, and unemployment is at the lowest rate in almost two decades," said Charles Sousa, the Minister of Finance. "Our budget is balanced. We have $600 million surplus.
"Now, we are using our strengthened fiscal position to make life more affordable for families and create new opportunity for businesses across the province," Sousa said.
Sousa said they will run a "modest deficit" of less than one per cent of the GDP. However, Ontario's overall debt will be at $337.4 billion by the end of March.
The news release from the Liberals states that because of the billions they are investing, Ontario would be in deficit for the next five years and they do not plan on balancing the budget until fiscal year 2024-25. The Liberals say there would be an expected deficit of $6.6 billion for 2019-20, about $6.5 billion 2020-21, and then they would return to balancing the books again.
The Liberals said interest on debt expense is now at eight cents on every dollar of revenue, compared to 15 cents in 2000. The government said it will "maintain responsible debt management" by achieving the lowest interest on debt-to-revenue ratio in 25 years.
The current Ontario government said it will also maintain an average level of cash reserves of more than $30 billion.
The highlights from the budget that may be of most interest to students include plans to provide more child care, a new drug and dental program, stronger hospitals, and mental health initiatives. Care for individuals with developmental disabilities, expanding access to free and lower tuition, along with boosting the minimum wage and job creation may also be of interest to young people.
The Liberals said they have made university tuition free for more than 225,000 students. Free or low tuition is available to students who come from low- and middle-income families and the government promises to make tuition free for those who make up to $90,000 and for students who come from families that make up to $175,000 may also be able to receive financial aid.
The Ontario government said it is prepared to provide more than $17 billion over the next four years to fund better and faster mental health initiatives. A new Local Service Priority Fund would be established to strengthen mental health support for LGBTQ+, racialized, francophone, new and rural young people.
If the Liberals are re-elected, they will proceed with their plan to raise the minimum wage once again on Jan. 1, to $15 per hour from $14 per hour. In addition, the Liberals'  plan to provide $935 million in new funding over the span of three years through the Good Jobs and Growth Plan, which supports businesses, students, and graduates.
Students with young children may benefit from Wynne's proposal of free pre-school child care for children aged two-and-a-half until kindergarten. The Liberals said families could save thousands of dollars in child care with this benefit.
The Liberals would introduce a new dental and prescription plan, which will reimburse 80 per cent, up to a maximum for $400 for each person, $600 for each couple and $700 for a family with four members, including two children. This program would be for those who don't have workplace health benefits or are not covered by OHIP+.
Wynne pledged to provide better access to care and reduce hospital wait times by pledging an additional $822-million investments into healthcare during 2018-19. Also, an investment of about $19 million over a span of 10 years to build and renovate hospitals was announced.
The budget earmarked $1.8 billion to enhance services for 47,000 adults with developmental disabilities.
The Liberals vow to continue to improve transit across the Greater Toronto and Hamilton Area (GTHA) by incorporating the GO Regional Express Rail, a $21.3 billion investment.
Weekly GO rail trips are expected to grow to about 6,000 by 2025 from nearly 1,500.
These trips will be two-way, all day, and in 15-minute service intervals.
The investments in transit include the Eglinton-Crosstown LRT project with 25 stations, linking to bus routes, subway stations, and GO lines. They plan to reduce congestion over the next 10 years by making a $79 billion investment in public transit.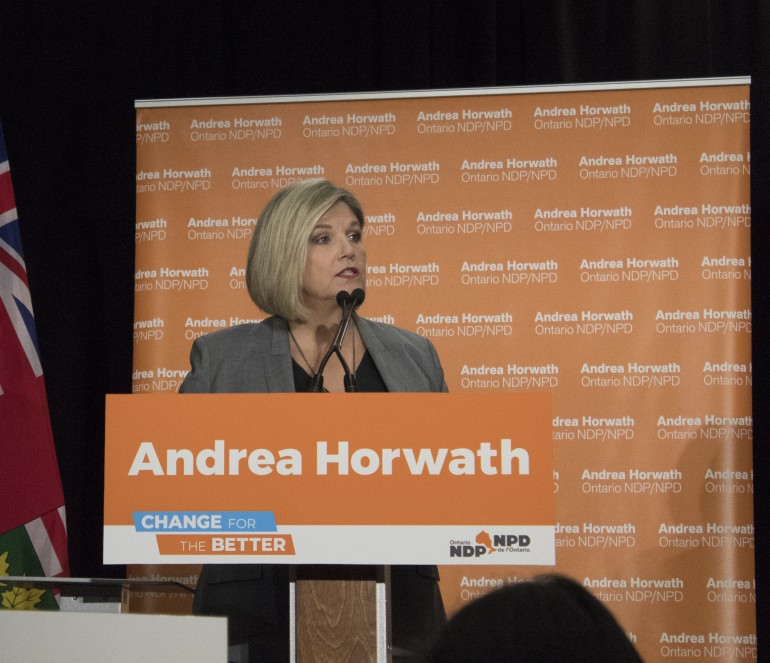 Wynne's final budget is a "last-ditch pitch for votes – with the details failing to live up to her vote-grabbing hype," said the Ontario NDP in a press release.
"It's clear that Kathleen Wynne believes it's more important for her to look good than for people to feel good," NDP Leader Andrea Horwath stated. "This is why people are disappointed. This is why people are cynical about politics."
Horwath said Wynne's prescription drug and dental plan is capped at $50 per child for dental care and $300 for the parent's drug and dental combined.
"Fifty dollars won't cover one dental check-up, let alone a filling," Horwath said.
The NDP Leader said Wynne short-changed hospitals by $300 million in 2017-18 and would probably do it again given the chance.
"The Liberals had 15 years to get good things done for people," Horwath said. "Instead, Wynne chose to cut and privatize. She chose to sell off Hydro One and make hydro bills too expensive.
"And she chose to do nothing to deliver relief to the middle class – and even chose to ignore child poverty as Toronto became the child poverty capital of Canada," she said.
Horwath said Wynne's plan to invest billions was "meager" and ended off by stating the good news is that it was Wynne's final budget.
Ontario Progressive Conservative Leader Doug Ford and MPP Vic Fedeli also claimed it would be Wynne's last budget. Ford said the pre-election budget was a continuation of Wynne's spending spree with taxpayer's money to bribe more voters.
"The Liberals think they can buy your vote, [that] your vote is for sale and this proves it in this budget," Ford said.
"She will do anything, promise anything to cling to power. Kathleen Wynne is writing a lot of cheques with your money. She's making big promises with your hard earned tax dollars."
He said taxes would be raised along with hydro bills.
Fedeli said the Liberals would "promise the world if it means they can cling to power," and said the Liberals broke their promise to run a balanced budget this year.
"If the Liberals were to win the next election, they would simply go back to their old ways," he said.