Legalswipe creator hopes app can aid in ending discriminatory policing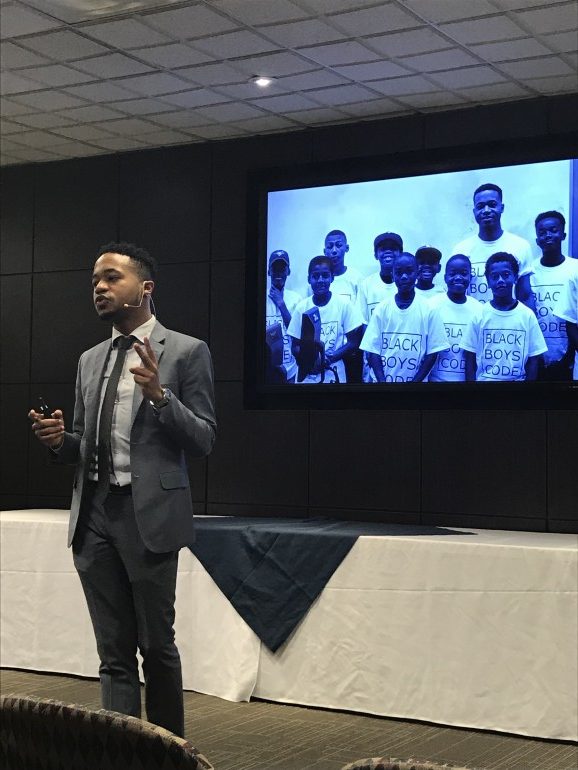 Damian Ali
Arts Reporter
Swiping right is now designed to lend a hand in ending discriminatory police practices.
Criminal lawyer Christien Levien, co-founder of legal education app Legalswipe, told a Humber North audience during a March 6 President's Lecture Series speech about his work in giving the public readily available legal information.
Levien's Legalswipe works by informing people of their rights during encounters with police and giving them on-the-fly legal knowledge. It was created by Levien because of its potential for having a systemic impact through the power of technology.
He was inspired to become a lawyer after he was subjected to police violence — where he says he was assaulted by officers in Brampton — in his youth. Levien said he successfully file a complaint but was still inspired to fight back against racial profiling.
The app is also inspired by that incident, the law graduate from the University of Ottawa said. He added that Its interface draws from racial profiling-influenced practices used by police. Giving targeted groups of people a tool to combat prejudiced encounters was crucial, he said.
"I knew what the problem was, and that it was people weren't educated in their legal rights and it resulted in them coming into contact with the criminal justice system," Levien said. "The beneficiaries were those people affected by police violence."
In the criminal justice system, black people are more likely to be presumed guilty by members of the judiciary, he said. Realizing the system itself was very broken and the odds were unfair, critical analysis is needed to debunk these perceptions, Levien said.
Ensuring that specific groups, particularly youth, had the convenience of basic legal knowledge readily available was important, said School-within-a-College dual credit teacher Mary Ellen Gucciardi.
"For me, as their educator, engaging in these events here at Humber just helps them to gain awareness and understanding, and what's available to them," Gucciardi said. "I really want them to engage and be a part of it, since they have this opportunity for free for kids and it's a huge piece."
Dealing with the issue of accountability, however, and holding police officers to an ethical standard was key in moving forward with Legalswipe, Levien said.
If a police officer knows that one is more likely to make a complaint or go to the Human Rights Tribunal, that is going to change the way they interact, he said. It's about empowerment through the app's resources and showing those in positions of power that citizens can protect their rights, Levien said.
"What we need to do is educate ourselves as a community not only to know what the law is, but know what avenues or resources are available to us so that we can adequately respond so that we can hold those in high power accountable," he said.