It's all about GRIT: Humber Media Studies students gain real industry experience
Amy Chen
Arts Reporter
Parents, professors and industry recruiters walked the red carpet and into a building filled with live music and stunning displays of creativity by Humber's Media Studies students.
The GRIT Showcase represented the school's Creative Marketing, Advertising and Digital Design programs on April 13 at the Centre for Entrepreneurship.
Erin Haina, one of the students who had her gala poster on display, bucked the assignment theme of either a circus or a carnival, and throughout the process of seeing the designs of her peers. Haina decided to go on a different route.
"All the designs were very different on their own, but I did notice sort of some similarities and some trends happening, so I tried to go to a very different direction with a really neutral colour palette and a typography-focused design," Haina said. "And I was proud of how mine turned out, because it was different from the other designs." 
For Haina, the opportunities at Humber not only helped her conquer the fear of presenting, but gave her the chance to showcase her work in a professional environment with real, live clients as well.
Laura Bobadilla, a Creative Marketing student, agreed.
"Humber has helped in the sense that they really try to make it as real as possible and as close to the real thing as possible," Bobadilla said. "Instead of making it all fake, they actually get real clients for us to present to."
Bobadilla was at the showcase to support her classmates and get inspiration from the variety of art pieces. She worked with her group on a campaign for Winners, and like the event itself, it involved a red carpet.
"Our idea was more like a red-carpet event," Bobadilla said. "If they bought a certain amount of clothing at Winners, they can be entered in a contest to win a red-carpet event and win free Winners clothing, and then have a photoshoot."
Their target market were millennials, and group member Kevin Andrews recalled the creative process behind the idea.
"We wanted to do something that has not already been done for a clothing brand," Andrews said. "So, we made it kind of fun for our target."
Another client Humber students worked closely with was the National Advertising Benevolent Society.
Jay Bertram, the executive director of NABS, attended the showcase as the keynote speaker and conversed with students who will be the new industry leaders.
"It gives me hope and encouragement and it's very exciting to see the future generation," Bertram said.
He wanted to show the students what his charity had to offer in the early stages of and throughout their careers. The offered services are confidential, professional and free. To run it successfully, NABS relies on donations from clients and agencies.
"Our purpose is to support the health and wellbeing and development of all those individuals in the media and marketing industry," Bertram said.
"We're so good at confidentially, we're known as the industry's best kept secret, and I'm trying to change that," he said.
Students Carly Livingston and Luke Walmsely made posters showcasing workplace discrimination based on an individual's criminal record, which highlighted the need for organizations similar to NABS in terms of career development.
"We wanted to inspire the idea that everyone has been caught in some shape or form," Livingston said. "We wanted to bring in the humanization of that and really tap into empathy, and also tap into something that you can argue about, like how everybody's a taxpayer."
"We wanted to totally get rid of the stigma by like almost provoking the stigma," Walmsely said. "We flip it on its head, because ex-convicts still pay taxes. We show the benefits of these people being reintroduced to society."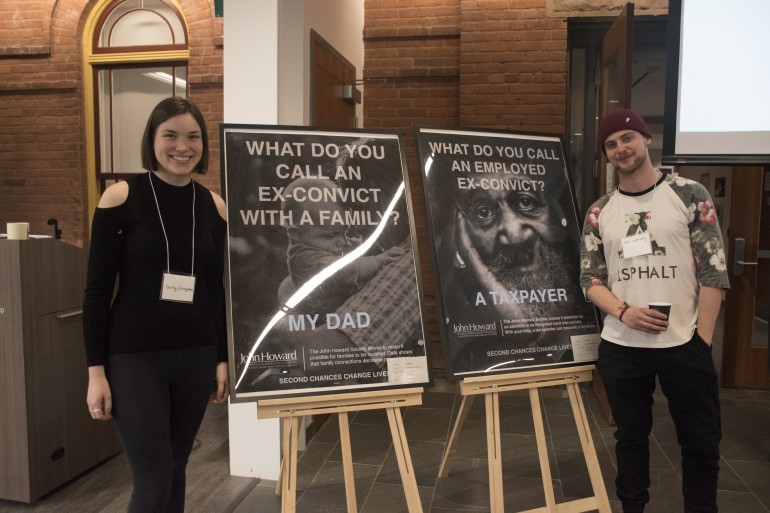 At another corner of the floor showcase was Maria Arteaga, who could not be prouder of her son, Andres Galindo, and his friend's musical performance.
Along with Roa HyunYoung Lee, who was playing the Gayageum, a traditional Korean string instrument, Galindo played the guitar, welcoming visitors.
"We're from Colombia and we belong to a family with many musicians around us," Arteaga said. "When (Andres) was a little boy, I just thought it was just part of his likes. But when, you know, when you have that music inside your soul and then you grow up and do what he's doing now, it makes me feel really happy."
Arteaga was so impressed by the grit and dedication Humber students displayed, she wants her son, who is currently in a music industry arts and performance program, to become a Humber student in the near future.
"I would like for sure for him to study here when he graduates," she said. "I know the quality of Humber's music program is great. I'm always wanting something new and better for him."