Value of Indigenous knowledge focus of three-day symposium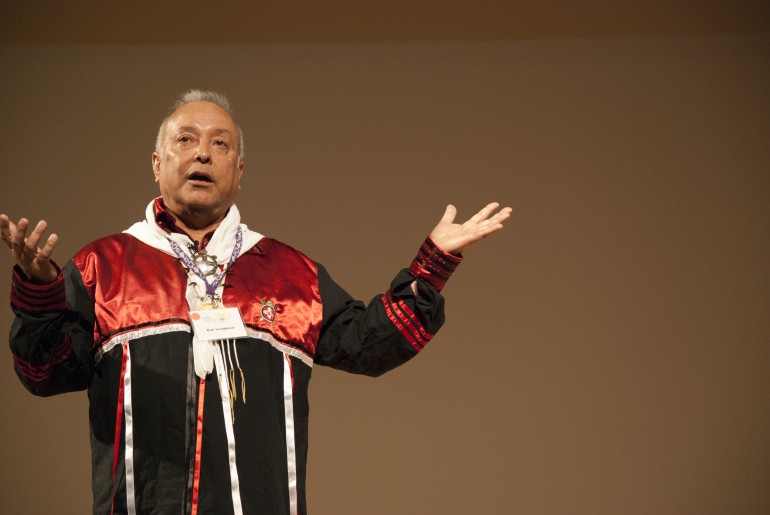 Clement Goh
News Reporter
The future is being shaped by how humans are treating the earth, Trent University Indigenous professor Dan Longboat told an audience at the opening day of the Indigenous Knowledge Gathering at Lakeshore campus.
The director of the Indigenous Environmental Studies Program at Trent, which melds Indigenous traditional knowledge with the Western scientific approach, said Thursday that the pressures of environmental crises will affect how people live.
He said global impacts from overpopulation and pollution are changing the world for newer generations, making traditions harder to maintain.
"Those values and principles on how to live in the world come from that way of understanding, and (those are) the things we need to revitalize and begin to share with all people because that becomes our contribution to the pool of human knowledge," Longboat said.
Longboat's key theory on reconciliation revolves around working intimately with others to develop understanding future relationships and that depends on acting early.
"Our job then needs to become clear," Longboat said.
"In many cases where we are living in very exciting times, we are challenged by the opportunity to address (repercussions) and if we don't do it, creation, nature and climate change will do it for us," he said.
For two days, the Indigenous Knowledge Gathering symposium discussed social issues within Aboriginal communities, bringing audiences together with open discussions on stage.
Humber's Aboriginal Resources department invited elders, professors and chiefs for presentations at the college's North and Lakeshore campuses.
"Our contribution as Indigenous people is to the pool of human knowledge, (and it) has not even began to start yet," Longboat said.
Questions followed after the discussion, giving guests an opportunity to share thoughts with Longboat.
"We're talking about the value of Indigenous knowledge, and we're trying paint a portrait on how we can be good people," said Shelley Charles, an elder and advisor on Aboriginal Relations at Humber.
"We're setting an example of bringing our teachings of the past into the present," Charles said.
Members of the audience included students from the Police Foundations program, as part of their curriculum covering Indigenous studies to learn more about social justice and representation, justice studies professor Carmine Spadafora said.
"From listening to Dan speak, he spoke clearly around some of the ethical frameworks around ethics of care," Spadafora said.
"I think there's going to be some really good, tangible applications that the students can make to some of the theories," he said.