Arb hosts sold-out backyard chicken workshop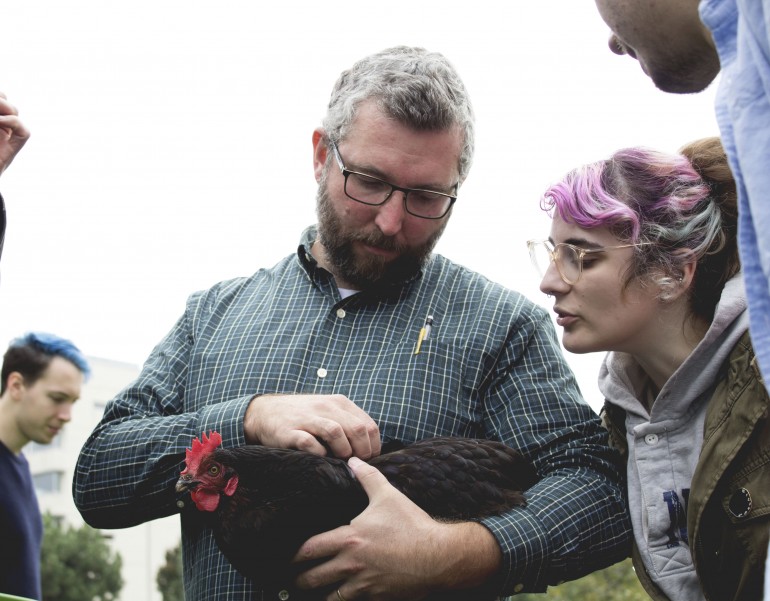 Demetre James Politis
Life Reporter
Torontonians gathered at the Humber Arboretum early morning on Oct. 14 for a backyard chicken-raising workshop.
Dan Pryce, owner of the backyard poultry company Four Legs or Wings Pets, hosted the workshop with two of his chickens inside of an Eglu Go Up, a chicken coop with a walk-up ladder and shelter.
He explained crucial instructions for raising chickens and maintaining coops.
In terms of health and comfort, Pryce said in the summer, the coops require ventilation in order to keep the chickens cool.
"It's all about fresh air," he said.
In the winter, chickens adapt to the cold by growing extra feathers and eating more to add extra fat to their bodies, Pryce said.
"What kills chickens in the winter is draft. Drafts can part a chicken's feathers, exposing its skin. A wind break is needed to stop the draft from flowing through the chicken's body," he said.
Using heat sources in the coop can be dangerous as hens may take interest in them, and heaters can prevent the chickens from naturally adapting to the cold, Pryce further warned.
When harvesting eggs in the winter, one must retrieve eggs within four to five hours of them being laid.
"If an egg freezes solid, it can crack, allowing the inside to be exposed to things such as excrement from the chicken's feet," he said.
Justin Bull, a participant and engineer, asked Pryce, "If you don't collect the eggs and they saturate in the nests, will the hens stop laying eggs?"
Pryce said he would have to gently remove the hen away from her nest and then collect the eggs.
The workshop took place nearly two weeks after city council approved a pilot project on Oct. 3, permitting residents of four Toronto wards to keep chickens in their backyards.
The Etobicoke-Lakeshore, Parkdale-High Park, St. Paul's West and Beaches-East York wards will allow up to four chickens per household.
Richard Carmichael, a creative director from High Park, said he came to the workshop to learn how to safely raise healthy and happy chickens after recently bringing home four baby chicks.
"I learned how they survive the winters, which I was concerned about," Carmichael said.
He said he wants his three kids, raised in the city, to learn how to raise chickens as well.
"I currently have the chicks living in a big cardboard box. So tomorrow we are building a coop for them to have a home," he said.
Carmichael said he chooses to raise chickens because he learned that eggs from local farms are "far more delicious and nutritional" than what he can buy at the grocery store.
"I also want to teach my kids where food comes from, as opposed to just sourcing it from the store," he said.