Humber Hawks in no rush to find replacement coach just yet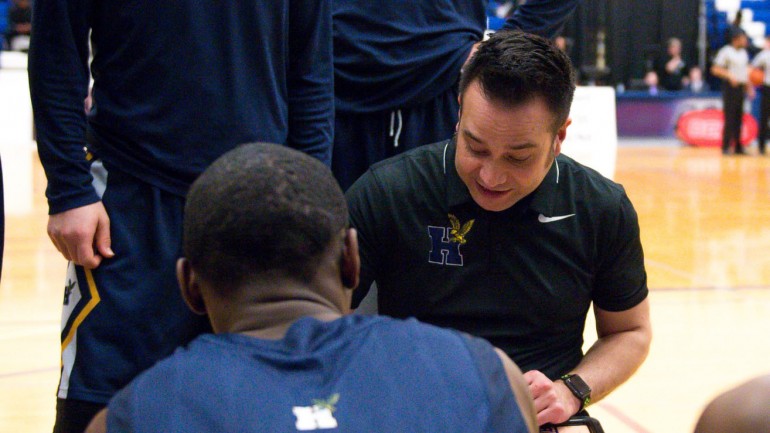 Scott Savard
Sports Reporter 

Humber Hawks are not panicking about finding a replacement for men's basketball former head coach coach Patrick Au.
Despite the short amount of time to find a new head coach for the men's basketball team — as the season and tournament play is expected to begin in September — there's no panic that has set in. It will be a calm and methodical process to finding the person who is the right fit.
"There is no reason to rush into this, you want the right person whose going to want to stay with your program, build on the program, and be apart of the Hawk family," said Jim Bialek, manager of Athletics and Sports Information for Humber.
"You want to do the same process as hiring a CEO for a company, anything that you would do to hire a leader for a corporation will be done here," he said.
Au announced last week he was stepping down from the post for personal reasons. He first took on the head coach job as an interim bench boss in June 2016.
Prior to that he was an assistant coach who help lead the team to five provincial medals and a National championship in 2014-15 after a 14-year dry spell. Last season he brought home the silver in Provincials and qualified for the Nationals.
Au posted a 37-13 record during his tenure as head coach.
Bialek said the department is doing its best to find the perfect replacement.
"With regards in hiring a new basketball coach a couple things come to mind. This is a very high profile position, with a long history of success in the program," Bialek said.
"Sometimes at Humber we have been very lucky to hire within. I think it's going to be a valued job," he said. "We are going to have some incredible candidates."
Bialek said he expects candidates from all over to apply for the highly valued post of coaching Humber's men's basketball team.
"People are going to be interested from across the board, whether their high school coaches, club coaches, high level prep coaches, former coaches, university coaches or college coaches, we are going to stop and take a look," Bialek said.
Although Humber will look at people with all sorts of backgrounds, coaches at currently heading teams at institutions will not get the same opportunity with the Hawks, Bialek said.
But where Humber won't be accepting applications are from current coaches from other post-secondary institutions.
"Anytime you mention other coaches from other schools that could be viewed as code of ethics or tampering. I refuse to open the door for coaches from other schools because that would really be in poor taste," he said.
"As far as other coaches from current institutions, that's a code of ethics that we can't even entertain to mention that," he said.
Naming a coach a coach before the summer would be ideal if only because of the work involved in building an OCAA team each year.
"It's important to have a person in place for all the obvious reasons, to be a part of recruitment, to have access to current players, to come up with a plan for the summer, a plan for the fall, get acclimated with Humber way how we do here," Bialek said.
Players who want to join the team next season shouldn't panic or look at other options with Humber's coaching history and success, he said.
"Humber being Humber, with it's history, players looking to come or consider Humber will be comfortable in waiting to see that they get the right person who will embrace them and help them to become better players, graduating students, and citizens," Bialek said.
The new coach will benefit as well with a strong core group of guys already set to play next season.
"Once that person comes into play they will be given all the resources to get off to a really strong and quick start," Bialek said. "We know we have a core group of guys returning, we know we have a really strong support system in place."
The Hawks are not looking for a person to step in for a year. It's someone who has to be thinking long term.
"The Athletic department at Humber is doing their due diligence to identify the best person for the job over the next 10 years. The athletics identify it as an incredible opportunity, a real valued and prized position," Bialek said.