Industrial design students build a better office chair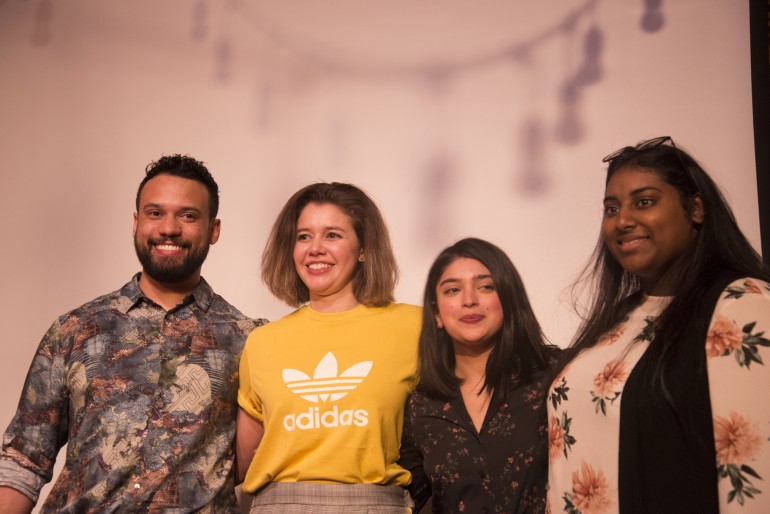 Sebastian Mahecha
Arts Reporter
Innovative chair designs decorated the Gladstone Hotel Tuesday night for the 18th Annual Humber College Chair Show.
The show takes place every year in March, inviting second-year industrial design students to exhibit their creativity. This year's theme was the future of work, where students created fabulous pieces to improve workplace chairs.
Industrial design professor Odin Cappello said the show wanted to change the way people use chairs, a basic and ubiquitous piece of furniture at almost every workplace.
"The idea of traditional office sitting is no longer the way people work, that's changing now and it's clearly changing in the future," Capello said. "Students were challenged to imagine what kind of furniture we're going use in the following years."
Aman Amin, an industrial design student and competitor, said his group wanted to decentralize workspaces.
Glenn Moffatt, an industrial design professor at Humber, said this year's students showed very different proposals.
"This edition students offered more obvious technological features like electronic devices and wireless chargers," Moffat said.
The event is not only a competition between students, but it also brings the opportunity for students to network with design professionals and companies such as Umbra, Borgo and Nienkamper.
"This event can provide students with important networking opportunities and in many cases, the firms or juries hire these students in their companies," Cappello said.
The event brought a diverse crowd of designers, students and the curious.
Hailee Usher, a first-year industrial design student, said these kinds of events are helpful to learn and to prepare ideas for future competitions.
Ten teams participated in the 2018 edition, where they were evaluated in terms of quality, innovation, functionality and design.
At the end the jury picked team Miro — with Kaida Darkoh, Maria Alejandra Uribe, April Seekumar, Maha Alavi — as the top winner. They created an innovative chair that provides comfort, technology and simplicity.
Uribe, a Humber student from Colombia, said the chair is designed to be used in cafes and open spaces.
"Some of the features include a wireless-cellphone charger, USB ports and AC outlets," she said.
The team was clear about how they intend to use the prize money.
"The team is planning to invest the money in getting more chairs made and to continue expanding the business," Uribe said.