How Millennials are changing the face of investing
Irina Kouchnir
Biz/Tech Reporter
Many financial advisors won't take on clients who cannot commit to investing significant sums of money.
This leaves individuals with smaller incomes, like millennials, at a disadvantage when it comes to investing.
According to an investor survey released by AGF Management, many Canadians feel they need at least $25,000 in savings to engage the services of a professional advisor. As a result, millennials are moving away from traditional investors and turning to online wealth management services and even using investment apps, which are simpler to use and require a smaller financial commitment.
A recent TD-Canada Trust survey confirmed some of the reservations millennials have regarding investing and found that "lack of money (46 per cent), lack of financial knowledge (40 per cent) and confusion with navigation tools (24 per cent)" were the key reasons millennials did not invest.
Amanda Heppner, 26, a current Humber College student, agrees that navigating investing can be complicated.
"I don't think I'm savvy enough to invest yet but I would like to in the near future. I need to do my research first."
Leaders in the financial industry, some millennials themselves, have heard the concerns of young investors and have taken the initiative in developing simpler investing platforms that require a smaller initial contribution.
Voleo is a popular social trading app amongst millennials that offers what users call a more convenient and engaging way to invest. Users of the app can start an investment club with their friends, pool funds and share investment knowledge. The convenience of doing everything on a smartphone appeals to millennials.
Miguel Abascal, project manager at TD Canada Trust, agrees that banks need to adapt and meet the unique preferences of younger investors who have a smaller initial contribution.
"We are beginning to see a change in how millennials manage their money. Very soon all money management will be done from our mobile phones. We already have apps that can be used to manage mortgages, loans and even investments. Also a lot of people are now using robo advisors because they are easier to access and cost less."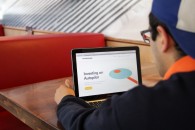 WealthSimple is another online investment platform available to millennials. Its website says it helps "investors build portfolios and give them advice about how to achieve their financial goals—whether that goal is saving, paying down debt, or investing for retirement."
WealthSimple works by spreading investments across a wide range of companies or industry sectors. This market diversification helps lower risk if a company or sector fails.  All investments are managed by Wealthsimple, all without an in-person meeting.
"I manage my money in a way that helps me diversify and generate passive income streams towards the long term," said John Matthews, 27, a recent university graduate.
"I currently invest in stocks, cash or treasury securities, and startup projects. I do part of my investing through Wealthsimple, partly because of the efficiency and diversification that they provide. Plus, they offer socially responsible portfolios which ensure that I am not indirectly invested in industries that I don't believe in."
In addition to online wealth management services, another and more radical change is millennials' desire to become angel investors or to offer venture capital. Millennials have grown up in an era where startups are the norm and entrepreneurs are celebrated while corporate CEOs are looked upon more skeptically than ever. Angel investing is predicted to continue growing in popularity amongst millennials.
Keeping cash in a savings account shouldn't be an investment strategy for millennials. In order to stay ahead of inflation over the next few years, much less the next few decades, all millennials should take advantage of these new investing services.