Historic Hawks women's basketball team continues breaking own records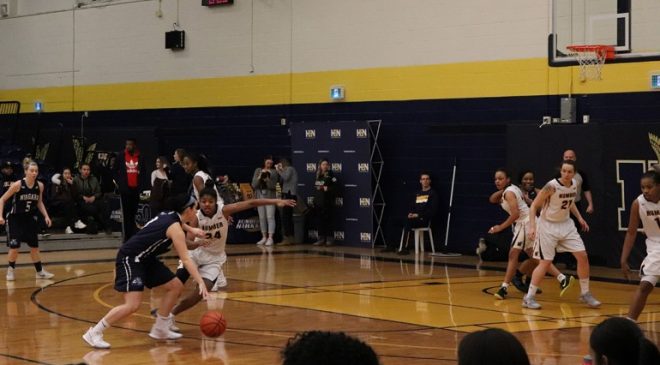 Mike Furtado
Sports Reporter
A win is almost a sure thing for the Humber women's basketball team given their dominance over the past three years.
Even Niagara College's head coach Mike Beccaria understood the force his team was up against.
"Our prep is the same with everybody, but psychologically it's a little bit different," he said. Beccaria told his team not to have any expectations playing against the Hawks, just to go out and have fun.
A Feb. 3 matchup against the Niagara Knights may not have been circled on the calendar for the Humber Hawks, but it carried a lot more meaning than meets the eye.
With nine minutes left in the second quarter, Beryl Mefful hit a mid-range jump shot that will forever be ingrained in OCAA history. With those two points, Humber's women's basketball team broke the record for total points scored in a season, 1,561 points, a feat they accomplished each of the last two years.
Prior to that, Jahnae Gyles made OCAA history by scoring Humber's 150th three-point basket of the season.
Breaking records is nothing new for the Humber women's basketball team. Every year they prove why they are one of the greatest dynasties in OCAA history.
The Humber Hawks currently hold a total of five OCAA team scoring records. These records include points in a season, points in a game, two-point field goals made in a season, two-point field goals made in a game and three-point field goals made in a season.
In the midst of all these record-breaking performances, coach Ajay Sharma won't let the high praise get to his players' heads.
"It doesn't matter what the score is, it doesn't matter how many games we've won, if you're not meeting the expectation of those details in practice, as a coaching staff we are going to ask for more," Sharma said.
This mentality instilled by the Hawks' head coach had a strong impact on the mindset of his players.
Aleena Domingo is the Hawks' second-leading scorer on the season and was the top scorer in the game against the Knights. Despite winning by double digits and breaking yet another record, Domingo isn't satisfied with her team's play over the past couple games.
"The last two games we've had, they are our worst games ever," Domingo said. "Yes, we are on a winning streak but the last two games we had a lot of mistakes."
Winning another national title is the only thing on coach Sharma's and his players' minds.
"Some practice to lose and some practice to win and we want to practice to win," he said.
Sharma has been preaching this winning mentality to his team amidst all the blow-out games and all the records his team has broken. He remains humble because he wants his team to experience winning the national title, a feat that he calls "a life-changing experience."