Hartman Loop helps save cooling costs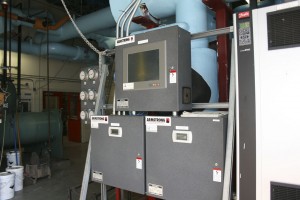 Matthew Lopes
Senior Biz/Tech Reporter
A key energy saving upgrade to Humber's air-conditioning plant was recognized with a $157,000 reward that is being reinvested into the college's overall sustainability.
The incentive cheque was awarded in 2009 by Toronto's Better Building's partnership in recognition of the college's effort to save energy with The Hartman Loop, a computer control box that optimizes the energy usage of the air conditioning plant.
Spencer Wood, Manager of maintenance and operations, said "we calculated that were spending about $150,000 a year in air conditioning, so we took the approach to make a change to a state of the art system which is what we got."
Wood said with the Hartman Loop installed, the college saves about 60 per cent in terms of air conditioning cost "when it was all said and done we went from 150 grand to less then 50.
The city of Toronto's better building partnership, rewards institutions for making energy saving upgrades to their building through their energy incentive program. "We applied for that and we got this incentive money for this program…so we have reinvested that money in other energy efficiency projects," said Wood.
With the incentive cheque and money saved annually from lower cooling costs, Humber has recently upgraded the drives for fans across the campus to reduce their speed and save energy, but Wood said there is more to be done. "Next up I think, will be improving the lighting in the gym for efficiency," said Wood.
Wood said he also wants to put variable speed drives on the fans over the big stoves in the kitchen so they are not always running at full speed. Wood is also looking to improve the rooftop cooling units at the Carrier drive Campus. "So there is still a lot to do," said Wood, "but this (the Hartman Loop) was a great start."
Tom Hartman, the inventor of the Hartman Loop said he likes to refer to his invention as "his brainchild." Hartman said part of the bigger picture behind the design of the Hartman Loop was to eliminate the need for additional power plants.
"The peak load on the electrical grid occurs in the summer and a large part of that is cooling systems. It reduces energy when the grid is most heavily stressed, so the wide spread of this optimization technology for cooling systems can reduce the need for power plants in the future," Said Hartman
Steven Lane, communications manager for Armstrong limited, which licences the Hartman Loop, said when compared to other similar technologies, "it's a winner by not just a nose but a substantial margin, and it's financially feasible for an institution such as Humber."