Nutrition students promote healthy snack alternatives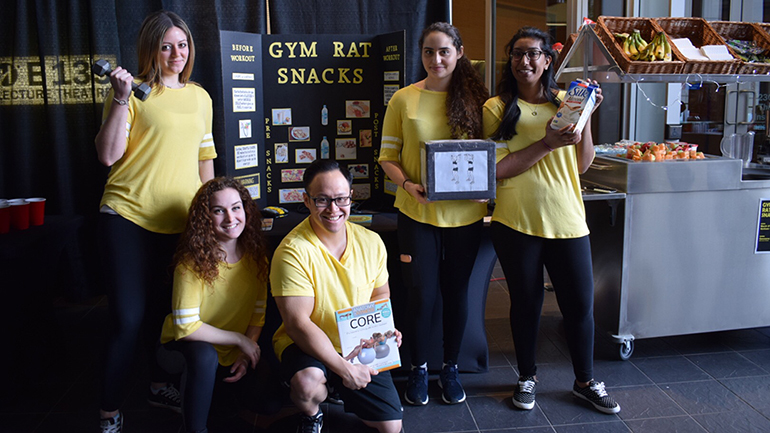 Chanel Sethi
News Reporter
To be well, one must eat well.
Humber's nutrition students shared that message to the student body at the E Building concourse on Wednesday.
Registered Dietitian Peter Rick and instructor of Hospitality, Recreation and Tourism at Humber College said the nutrition students have been preparing for the event for six weeks.
"This was an opportunity for the nutrition students to get an experience, coming out and sharing their knowledge on nutrition topics and displaying foods for the public," Rick said.
Booths offered information about how different foods affect the human body while providing healthy snacks.
The event was full of energy and hungry appetites, and those who attended loved the material being shared, including Jodie Glean, who works in Human Resources.
"I think this event is fabulous, and it's a great reminder some of the information we learned years ago with healthy eating, and there's new information I learned today on new healthy nutritious recipes that I can easily cook at home," she said.
Kayneeta Adams, part of the booth "Snacks that don't bite back," provided a little background knowledge on snacks that provide energy throughout the day.
"The reason we came up with this is because snacks that we normally buy such as chips and cookies, even Tim Hortons have empty calories and leaves us feeling lethargic, robbing us of our energy," Adams said.
"We are trying to promote snacks that won't allow to feel this way and will provide you with the energy you need throughout the day," she said.
Each booth not only provided useful information, but they offered nutritious snacks proving that are healthy alternatives that are just as delicious as junk food.
First-year nutrition student Gloria Carvajal agreed after stopping at each station.
"I really liked the event because I enjoy eating real foods," she said. "Everyone is providing real food that I would like to start putting more into my body.
"I am very happy I attended today as I learned about all these healthy alternatives," Carvajal said.
Being healthy and active have become important to this generation, and being aware of what food does before and after working out is very important, said Karina Tehrani, a nutrition student at the Gym Rat Snacks booth, said.
"We're trying to advertise why it is important to eat healthy before working out and after working out," she said.
Tehrani said her team demonstrated which foods provide the carbohydrates and protein to give people the most energy before a workout.