Girl power talk with Sophia Bush and Iskra Lawrence a success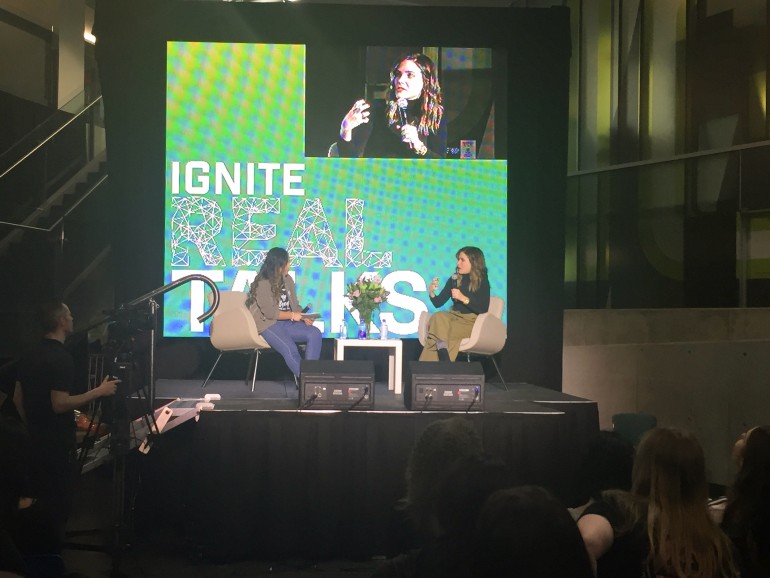 Sophia Bush discussed the importance of education and females breaking down barriers with IGNITE president Maja Jocson.
(Vannesia Crayton)
Vannesia Crayton
Arts Reporter
Listening to actress Sophia Bush and model Iskra Lawrence talk about education and empowerment struck a cord with public relations student Renee Johnson.
The Lakeshore campus student said it was important hearing the two stress education during an IGNITE Real Talk session at the Student Centre on Thursday as part of International Women's Day celebrations.
"Because there are so many times that I just want to quit school but hearing Bush say how school played a key component in her life just makes me want to push a little more to becoming my own boss," Johnson said.
Bush said because life is a work in progress, women shouldn't "wait until you're just a masterpiece.
"Life is a work in progress, you're capable and beautiful and nailing it already," she said.
Lawrence and Bush came to speak and answer questions from the audience of about 200 people about their journeys to success and being an influence of change.
The two use marketing and advertising to promote positive images of people, women in particular.
Lawrence, who is an entrepreneur and social activist, is also the face of the body-positive Aerie Real Campaign, which changed the American women's clothing retailer's branding by not photo shopping its ads.
She is also the brand ambassador for the National Eating Disorder Association, which is working to support individuals and families affected by eating disorders. The BBC acknowledged her as one of the top 100 Women Of The Year in 2016.
Bush devotes her time to better the education of young women while serving as a global ambassador for Glamour's the Girl Project, which focuses on breaking down barriers girls face with attending secondary schools in developing countries.
"Working with a brand that promotes my message, everything that I stand for by showing my authentic self, that for me is the most freeing thing," Lawrence said. "It lets me know that no matter my size, shape and stretch marks, they still value me and let me know that I am special to them, I mean something to them."
Lawrence said she is an advocate for self-love and self-care, with those two things being the fundamental routes for women's empowerment.
"Self-care is imperative because when you remove your insecurities, you're capable of anything," she said. "When you have that self-love you start to find ways to contribute to the goodness of the world helping elevate other women."
Lawrence urges women to build themselves up and then dedicate time towards helping boost other women.
"Education is key, so educate yourself," she said. "With that, we as women can take over and be a strong force."
"It's no longer okay for us to not look out for each other as women anymore," Lawrence said.
Bush said women cannot let fear stop them from succeeding.
"One thing I've learned is that fear is strong and never goes away," she said. "You've just got to give it a seat at the table, don't run away from it, acknowledge the fear and go, 'Oh, it's all going to be okay' and move past it."
"You can overcome anything, just drop that self-doubt, that's a start in eliminating fear," Bush said.
"I love sitting in meetings with a big group of men, because they have this archaic thought that because I'm an actor I'm just pretty and dumb," she said.
Bush described herself as a nerd and "super smart."
"I have a journalism degree with an emphasis in public relations and political science in university," she said. "I'm educated, so I'm about to be insightful and mop the floor with you."
"Women are powerful beings who are pursuing a seat at the table they usually aren't assigned to, said Lakeshore campus student Chantal Legere.
"It was awesome to see a lot of men here supporting women as well and being involved in the talk coming together as allies," she said. "Therefore it was a great event, it's always nice to highlight women especially on this day."
Dava Grocott, an addictions and mental health services student at Lakeshore, said just being in the same room as Bush was empowering for her.
"She touched on a lot of issues that are currently going on in the world, from the #MeToo campaign to oppression against women in Hollywood," Grocott said.