First da Vinci surgical robot is at Humber River Hospital
Alex Lambert
Senior Reporter
Thanks to a $10 million gift, Humber River Regional Hospital has become the first community hospital in Canada to obtain and use the minimally invasive da Vinci surgical robot.
The donation was given to the hospital by Helen Hull and her late husband, Murphy Hull, and was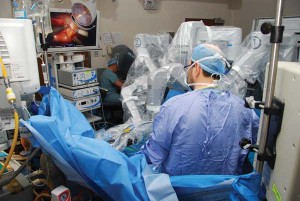 used to fund Humber River Regional Hospital's robotics centre in Toronto.
The jewel of the robotics centre is the da Vinci surgical robot, affectionately known around the hospital as Rosey, nicknamed after the robotic maid from the Jetsons.
On April 10, the Humber River's da Vinci was used for the first robot-assisted prostatectomy performed in any Canadian community hospital.
Jack Barkin, chief of staff at Humber River Regional Hospital and the surgeon who performed the operation, said that surgical robotics is changing the way operations are done.
"Overall, what we are seeing is that presently there are lots of surgeons who believe that the outcome for the patient when it's done robotically in good hands is better than if it's done open," Barkin said.
He said da Vinci robots are used for what's known as remote surgery, where the surgeon sits about six feet away from the patient and controls instruments and a laparoscopic camera attached to robotic arms that are all inside of the patient by way of small "keyholes" that are considerably less invasive than incisions used in open surgeries.
Barkin said there are many benefits to robot-assisted surgery when compared to traditional methods, such as much smaller incisions, quicker recovery times, less bleeding during surgeries, and also increased dexterity, stability and vision. Robot arms replace human hands, and a tiny camera is inserted into the patient's abdomen.
Despite all the benefits, he also spoke of the downsides of surgical robotics, such as expense, scarcity of the robots, low familiarity with the technology among surgeons, and the fact that there's no government funding for surgical robotics, meaning without the Hulls' donation, the robotics centre would have been impossible to fund.
"It's the cost and the accessibility of the machine that has prevented a significant engagement and embracement by the majority of the physicians," Barkin said.
Catherine Mohr, director of medical research for the da Vinci robot's manufacturer, Intuitive Surgical, said these machines are expensive, but what people need to look at is the cost benefit analysis, which tends to be very good.
"When you're thinking about cost, you can't just draw a little dotted line around the operating room and say the costs inside that operating room are more, and so therefore this is going to bring extra cost to medicine," she said.
Mohr said if surgeons take the time to learn how to use the new technology, many of them will embrace it.
"I think that when surgeons get over this idea that they're being replaced and recognize that it's a tool to help make them better surgeons, that's the point at which they get over this reluctance to use the technology."
Humber College's robotics program focuses mainly on industrial automation, but if students wanted to seek further training after graduation, there might be opportunities for them in the field of surgical robotics, said Neal Mohammed, coordinator of Humber's electro-mechanical engineering automation and robotics program.
"Students wishing to move on could end up programming or working along with a team of engineers that service these robots or commission these robots into action," he said.
Mohammed also said if the technology becomes more common, he would consider injecting some surgical robotics education into the program's curriculum.