Documentary filmmaker speaks about Shadeism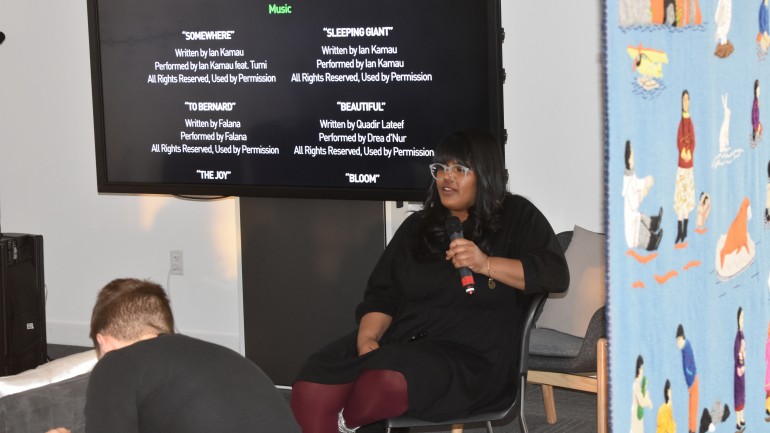 Frederique Ndatirwa
News Reporter
A Canadian filmmaker explored the nuances of skin colour and the effects it has within racialized communities around the world.
The documentary Shadeism: Digging Deeper by Nayani Thiyagarajah looks at shadeism, or colourism. She defined it as "a form of mistreatment or favouritism within a community of colonized people of colour based on their skin tones."
Thiyagarajah sat down and talked with students in an event collaboration with Humber's L Space gallery and the Black Academic Success and Engagement (BASE) at Humber's Lakeshore campus on March 28.
"It is important to have people of colour in institutions who create the dialogue that our communities really need," she said. "We need to keep having these conversations within our communities."
The 58-minute documentary released in 2015 was screened to an audience of about 20 people, who also had the chance to engage with Thiyagarajah about the unique stories of the different women portrayed in her work and the effects it had on their own lives as people of colour.
The event provided students at BASE, formerly known as The Bridge, the opportunity to engage on the topic of shadeism within the coloured community.
"The event was really eye-opening and it just answered a lot of questions that I had about the difference between racism and shadeism and how people in the same community, being people of colour can actually be discriminatory towards each other,"
said Zion Olubummo, a second-year University of Guelph-Humber media student.
She said there is a need to understand that everyone has different experiences and despite being people of colour, different shades still mean different things in the society.
"Our different experiences provide us with different spaces where we are able to express achievement and different things such as grief, and should learn to respect each other's spaces while making sure that shadeism is being consciously eradicated," Olubummo said. 
The thought provoking documentary explored women of colour and their lives as products of standards of beauty that were establish through colonial practices.  The students present were left with hunger to continue to speak against colonial ideals of beauty still found within their communities.
"Shadeism is not a part of our mainstream conversation and it has made it difficult for us to have substantial societal change," Thiyagarajah said. "We need to be able to have these very difficult conversations and start to have spaces of solidarity."
The film premiered in Nigeria and Brazil and has been screened in schools and institutions across Canada. Thiyagarajah hopes the documentary will be available on Vimeo later this spring for public viewing in North America.