Culture Days aimed to unite community, explore Canadian identity
Kateryna Horina
Arts Reporter
Not everyone in this country thinks Canadian culture revolves around hockey and Timbit doughnuts.
To prove the point, Humber Event Management graduate Grace Poltrack hosted Etobicoke Lakeshore Culture Days to explore into what Canadian culture means to local residents.
Poltrack kicked off the weekend Culture Days event with a party on Sept. 29. She says it's her first time practicing what she studied at Event Management program, she says.
"I really like people getting up and participating in all the activities," Poltrack said. "And I'm really happy to have this opportunity to test myself at all the things I studied in Humber."
Canada's Got Talent finalist dance troupe Broken Dance taught dancing steps to children in the audience after their show, as well as showing off their Salsa in the 6iX show, with introductory salsa lessons.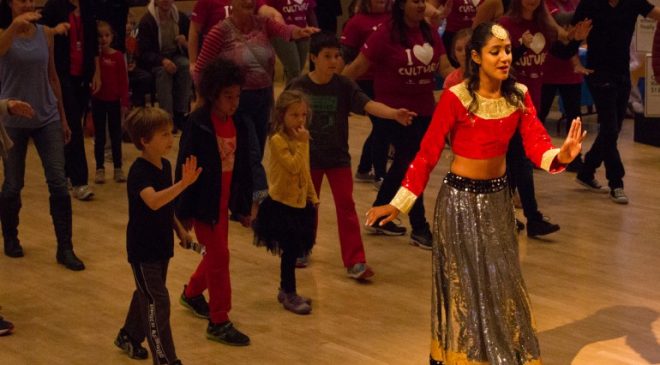 With food including empanadas, samosas and pakoras in hand, visitors had an opportunity to express what Canadian culture means to them by decorating one of the 150 maple leafs for a collective creation, presented by Humber College and Lakeshore Arts.
The event spanned over two days and linked Humber's campuses with by a free shuttle-bus. Each Activity Hub had a series of workshops for every taste — DIY clothing, music performances and even writing six-word short stories on the pavement with stencils.
Rob Matejka, a local artist, said he finds this project important.
"It's important to get people to participate positively in community," Matejka said.
"It's a way to keep the community safe," he said. "I think this project is educational in some way, it may interest a lot of people, who just didn't know they're interested until they try."
Humber Lakeshore Principal Wanda Buote said Culture Days is an event aimed to unite each member of community together.
"It's about opening our doors to community, to work together, and by this work and participation make our community great," she said.