Controversial novel causes boycotts and riots South of the border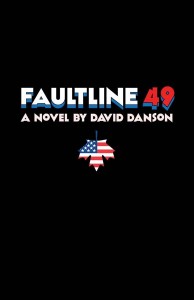 by Alyssa Capistrano
A&E Reporter
Controversy, criticism and boycotts have occurred south of the border, involving reporter David Danson's newly published novel, Faultline 49.
The book is about a counterfactual Canada occupied by U.S. forces following the bombing of the World Trade Centre in Edmonton, Alberta.
Edmonton does actually have a World Trade Centre, though it's far less famous than the towers destroyed in New York and has only seven floors.
In the book, a fictionalized version of Danson travels across occupied Canada in search of alleged bombing mastermind, Bruce Kalnychuck.
Danson, born in Valletta, Malta, is a Calgary based freelance reporter, blogger and photographer whose inspiration for the book stemmed from being politically active all his life.
"I knew I wanted to stunt the orientalizing wanton in the western media's depiction of, well, the rest of the world and their "petty" conflicts," said Danson.
"While working on my essay in Edmonton, Alberta, a friend pointed out the Edmonton World Trade Center, and made an offhand remark about no one ever wanting to bomb it. I thought: hey, who would want to bomb it? The essay I'd been writing took on a new form from that point. It no longer had to be a dry, academic piece; it would be a playful simulacra."
Although receiving plenty of criticism about his views on imperialism, his book being anti-American and its political message, Danson said he remains calm and professional.
"Marcus Warhole (book reviewer for the VA Militant) is petitioning people to boycott my book, and I'm convinced those people wouldn't buy it anyway. Repent America and Concerned Women of America. These are the people who hate Glee," said Danson, referring to the popular TV show.
"I've been called me anti-American, which is the one thing that bugs me. If I hated the US, do you think I'd write a book that's hopeful and that depicts Americans as potentially noble?" Danson said.
Joseph MacKinnon, editor and fact checker of poetry and fiction at Walrus Magazine, said he agrees with Danson 100 percent.
"The book is controversial, yes, but I don't think it should be. It's a simulacra: fiction imitating reality to better understand reality. But let's not loose site that it is fiction," MacKinnon said.
Anthony Saleh, 20, a second-year creative photography student, said he related the novel back to the real 9/11 attacks.
"This book reminds me of that day. It was pretty awful. I had a few family members at the base. Unfortunately one of them didn't make it out," said Saleh.
Danson received his Bachelor of Arts from the University of Toronto in English and philosophy, and his Master's in journalism from the University of Oregon. He is currently working on a confidential project, influenced by anti-war objectives.