Brick repairs at Guelph-Humber go ahead with reserve funds
Andrew Ardizzi
News Reporter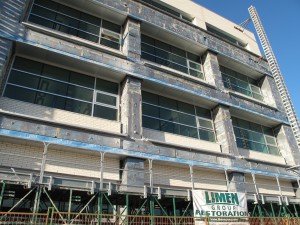 Humber is going ahead with repairs to the Guelph-Humber building during its ongoing legal fight with the company who built the building.
The repairs will be paid for by the college's reserve, said Rani Dhaliwal, vice-president of finance and administration.
Dhaliwal said the college can't wait for the matter to be settled because the building has to be safe and secure for students.
Humber hired Ball Construction to build the $23-million building in February 2002 and was inspected and certified in November 2003.
However in January 2008 a report commissioned by Humber cited that the mortar and bricks were letting water in, causing dark stains on the exterior.
The report also cites bulging brickwork and failure to install waterproof membranes within the walls.
"When we first had the staining issue we had conducted an analysis through a restoration company," said Dhaliwal. "They had done some very initial investigations that indicated the building wasn't built to the design requirements."
Humber filed a statement of claim against Ball on July 8.
She said the college is gathering its building inspections and assessments to support its statement of claim.
James MacLellan, Humber's lawyer, declined to comment on the lawsuit.
Jason Ball, president of Ball Construction, also declined to comment on the ongoing litigation, but said a statement of defence was filed.
Construction Control Inc. is overseeing the building's restoration, providing the initial assessments on areas of concern.
"We're at the point where we're removing the bricks," said Tania Mungo, project manager of building restoration at Construction Control.
"We're currently in the process of planning our repair work within the walls of the building."
Mungo said the issue was the darkened bricks, which indicated water damage into the brick system, but couldn't comment on the direct cause.
She said the project is roughly two weeks behind because of a delay in delivery from the original brick supplier in Red River, Man.  The bricks were delivered to the campus Sept. 28.
Mungo said restoration should be completed by January, but that it's weather dependent. If the project is delayed, she said the least visible wall would be completed in the spring.