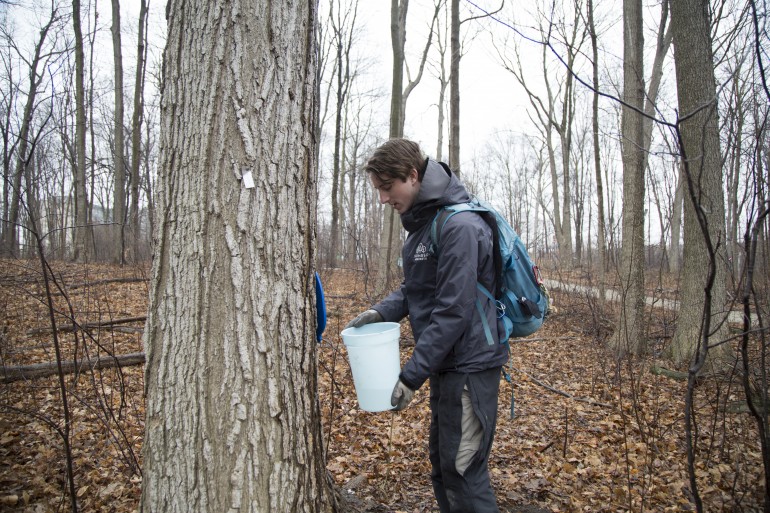 Noman Sattar
News Reporter
It's the sweetest time of the year for Humber Arboretum.
It's also the start of bee season, who share a sweet tooth for maple syrup made at the botanical area surrounding North campus, said Ken MacGillivray, environment education assistant at Humber Arboretum.
The Arboretum, an environmental showpiece, organize tours every month, and this month park visitors can see staff collecting maple sap from sugar maple trees, bringing them back to the outdoor fire pit where they boil sap to make maple syrup.
The production process starts from one of nature's true phenomena, during cold spring nights, water from the soil absorbs into the tree, and the warmer temperatures during the day pushes the water down with pressure to the bottom of the tree, making it easier to collect maple sap.
The sap is taken to the fire pit where it is boiled until it becomes syrup.
MacGillivray walks at least twice a day through the Arboretum with his cart to collect buckets filled with sap from the trees in the forest. The sap is usually collected between 12-to-20 days in March and late April.
Sitting behind the thick smoke of a fire pit, MacGillivray said the entire process is a simple thing, but it requires hard work collecting the sap and boiling takes a long time.
"Once it is close to finishing, we send it to the Culinary School at Humber, and they use some of the syrup with their students making various maple candies and maple dishes, they send the majority of the maple syrup back to us, we bottle it and sell it," he said.
MacGillivray said it takes 181 litres (40 gallons) of maple sap to make 4.5 litres (one gallon) of maple syrup.
Valerie Leaist, the operation assistant at the Arboretum, called it a unique space for students to learn about plants and nature.
"We have got our sugar bush, so we make our own maple syrup," she said. "The students can participate in the field trip that we offer, they can see sap been collected from trees, and at any point they could come in and see a boil, if they are walking through, they can stop by and ask questions, it is very interactive."
Highlighting the importance of the tours which conducted once a month, Leaist said they are trying to involve students and the community with the Arboretum.
"It's a nice way to connect with students and community, so they know about us and to connect them with nature, we also offer field trips for school groups, and run programs for them, it's really important for younger students to learn about nature," she said.