'Just make the call' on child abuse, group says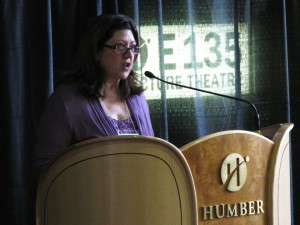 Andrew Ardizzi
Senior News Reporter
Boost Child Abuse Prevention and Intervention launched its national Go Purple for Prevention campaign Wednesday morning at Humber's North Campus.
"One of our main objectives is to educate people that abuse does happen and that we can do something to prevent it," said Boost's executive director, Karyn Kennedy.
Boost is an organization committed to eliminating abuse and violence among children, youth and families throughout Toronto and the surrounding areas.
It's a collective responsibility to call a children's aid society if child abuse is suspected, Kennedy said.
"We believe that every child has the right to grow up free from abuse and violence and we all have a responsibility to protect kids," she said.
Kennedy said research has shown in recent years most people wouldn't make the call if they suspected abuse, especially by people they know.
"People need to know they can make the call, they don't have to identify themselves if they're not comfortable and they don't have to be sure," she said. "They just need to make the call."
Boost helps facilitate programs in schools where kids take part in activities teaching them who they can go to if they have a problem, said Kennedy.
Kennedy said Boost follows up on the program by first finding out what children know before the program, directly after and again six months after to see how much information they retained.
Helping with the launch of Boost's campaign were Humber's creative advertising students, who designed three child-friendly posters and a public service video.
The posters included children with unicorns, dinosaurs and with an adult.
"How do children escape these negative situations in a positive way?" asked Leah Barrette, 22, the project's art director and graduate of the creative advertising program. "We thought through their imagination and through dressing up or drawing pictures."
Humber president John Davies was on hand and applauded Boost's work.
"Fundamentally this is about Boost," said Davies. "The main thing is get the word out about child abuse."
It's also an opportunity for Humber students to showcase their skills and to do it through real work experience, said Davies.
Alexis Totino, a graduate of child and youth worker program, was a co-host for the launch.
Totino has since gained a Master's degree in social work and works throughout the city helping youth.
She said many youth suffer abuse or neglect and it's important to get the word out.
"When you work in the field you can see how these programs positively affect kids' lives," she said. "It's worth it to help people.
"That one call, one word, one sentence of encouragement; it can change the trajectory of someone's life."